1.22.0.2 D Mod By Draug – Minimalistic Cheat Mod Pack
All mods and cheats collected from different sources
Tested and selected for the best all-in-one collection.
Mod pack contains most useful and necessary mods, nothing extra.
Without
XVM.
INSTALLER IS IN ENGLISH !!!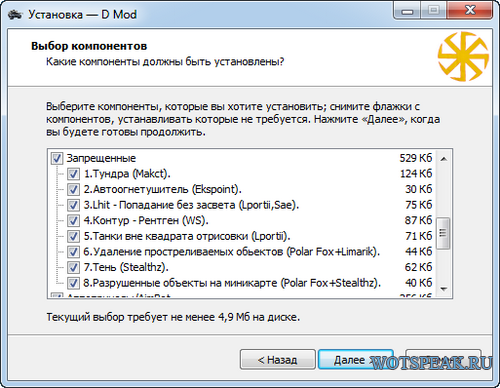 List of mods / cheats included in the build:
Allowed:
1.Commander's camera.
2.Screw .
3.The panel damage.
4.AutoEquip auto installation/removal of equipment.
5.Calculator of effectiveness in combat.
6.Timer for weapon information in combat.
7.Increased illumination lamp time.
8.Chance to win + HP teams.
9.Rating of marks on the barrel.
10.Horizontal aiming angles.
11.Rating of players in battle.
12.Statistics for the session.
ϟ 
Sights/Information:
1.Harpoon mini + fatality mixing.
2.The sight Taipan (mini).
3.Harpoon Lite.
4.Improved j1mb0 sight.
5.Upgraded sight setting Draug.
ϟ 
Damage counter:
1.Minimalistic log.
2.A detailed log.
Prohibited:
1.Tundra (Makct).
2.Sniper mode for artillery.
3.Hit without light.
4.Laser pointer.
5.Target designator.
6.Contour-X-Ray.
7.Reload your opponents.
8.Destroyed objects on the minimap.
9.Red balls for the arts.
10.Tanks outside the visibility rendering zone.
11.Deleting objects that are being shot.
12.Forget-me-not.
13.The direction of the barrels on the minimap.
14.Lead marker for artillery.
ϟ

 Auto Sights/AimBot:
1.Autofocus is simple with capturing the target behind an obstacle.
2.Vang's autofocus.
3.Aimbot-Shaytan.
4.Aimbot Evil
More mods (for an Amateur):
1.The trunks of chaos.
2.Transfer of the crew.
3.Light in the ears.
4.Disabling fog.
5.Zoom start x2 + improved visibility.
6.Armor penetration calculator.
7.Place of information of the Union art.
8.Reduce the circle of information by 2 times.
9.Retainer of the sight.
10.Circle 15m.
11.Blocking a shot at corpses.
12.Information panel.
13.HP and Packed damage in the ears.
14.Medals in battle.
15.Firefly.
16.Rating of stripes on the barrel in the hangar.
17.Multiclient.
Setting the handbrake in sniper mode:
1.Free rotation of the camera.
2.Complete deactivation of the handbrake.
Control keys in the battle:
– Tundra

 – (default in sniper mode, full tundra 

F2

).
– Screw

 – (repair, psaltery, treatment-space, adjustment for convenience in the hangar).
– Minimalistic damage log

 – (in combat, the 

left Alt 

shows a detailed log of the damage inflicted and the total damage inflicted by the platoon).
– AutoEquip

 – (Buy 1mask network, 1rog and hang in the hangar on all tanks))
– Black sky

 – (in the battle 

Alt +F11

)
You can find other settings in the hangar.
Everything is configured by default !